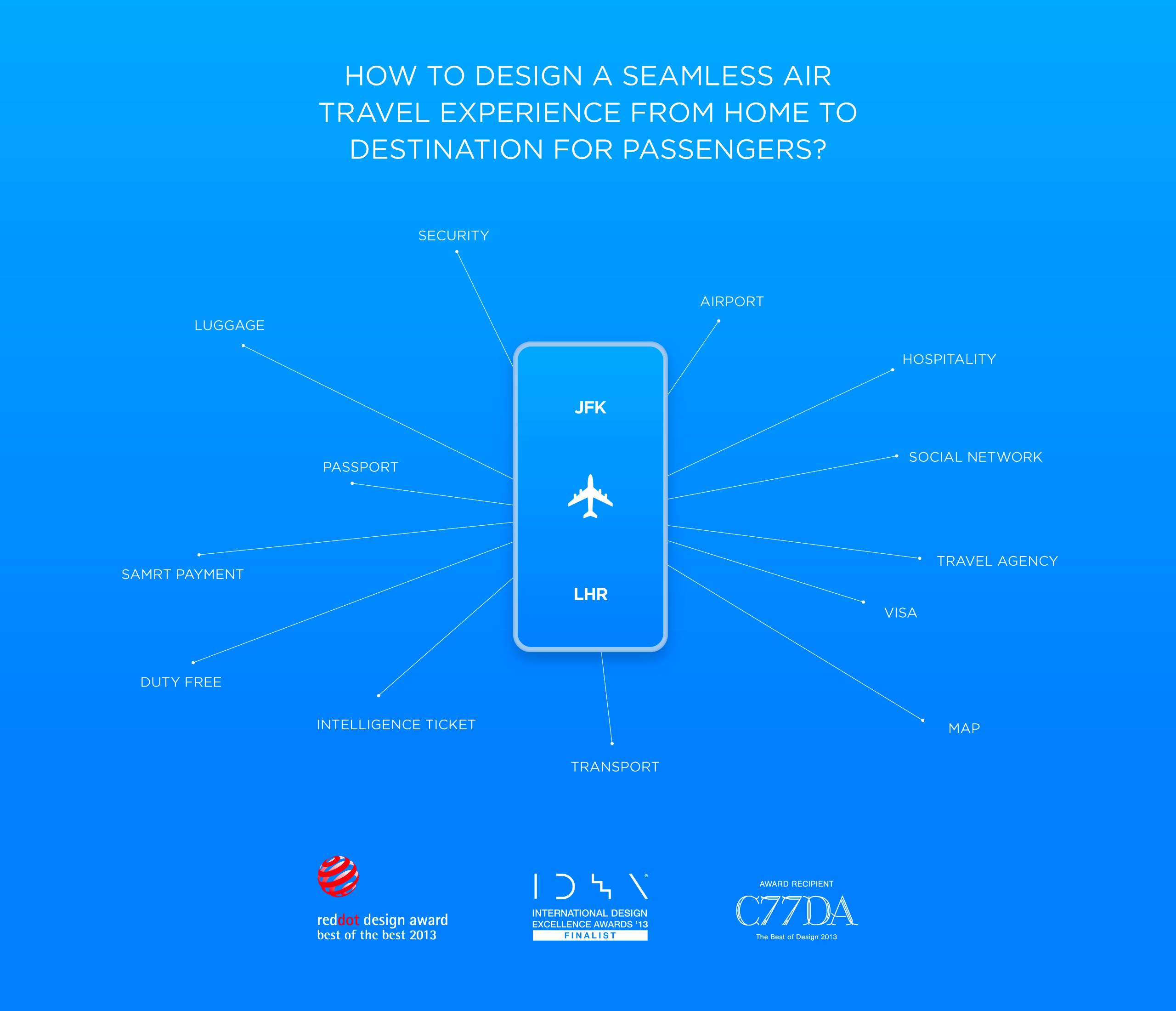 SKYNEX

Service Experience Design
Design Innovation
New Concept

updated in 2020


Credit
Jinwoong Seo
Tien-Fang Yu
Allen T Tsai
Jennifer F Gomez
Sandra Mileikyte
Myungjin Song


Skynex is a concept design project that redesign the future air travel experience.

The fundamental idea of this service is that how can we make air travel much simpler and easier. Think about the time when the mobile apps we now normally use simply did not exist. Think about how difficult the entire ticket purchasing process and experience were, especially for people, not speaking any other language, landed in a foreign country. Think about how difficult navigating an airport to find transport to get to the city was.

But luckily enough we live in this mobile era. I would like to remind you of this project initiated in early 2013. The year was the year, the beginning of entering the mobile era, and everything was rapidly changing around mobile.

I developed this idea deeper in my dissertation during my masters. Skynex won the best of the best red dot concept design award, silver and notable prize in service design in core77, and finalist in IDEA.



Motivation
I love to travel. Especially air travel is definitely my favorites. What I like the most about it is that I can visit a lot of museums, theaters, and unique design shops to be inspired. Trying traditional local foods and visiting exotic places are a great source of inspiration that you cannot normally have in your daily routine. Besides, you can get out of your daily routine to think more about yourself in where you never belong to before.

However, air travel has not been always an exciting experience for me. I had several unpleasant and inconvenient experiences through air travel because of the following situations: hard to find the cheapest and reliable ticket for not only flights but also hotels, the scary process at security, lost luggage, missing flight, and getting to the city and so on.

This led me to this question:


What if air travel was as easy and simple as commuting with Oyster card?
User research


Before getting started, I just wanted to make sure whether this project is worth to go deep or not. To find out more about it, we simply held a casual workshop with friends from different backgrounds. Through the workshop we shared our own experiences and had a meaningful discussion to come up with brief ideas. Those are some examples of unpleasant experiences from them.

Awareness


To have a better understanding of the current situation and difficulties in not only air travel experience but also the aviation industry, we did preliminary research through literature review, analysing industry reports as well as looking back to history.

According to Aribus and IATA (2012) Air travel market is growing every year and will double in the next 15 years and passengers expect to fly more frequently in the future. Air travel these days, however, is a complicated, stressful, and time-consuming process that involves a lot of redundant steps (ACI, 2009). Those steps consist of different services requiring different approaches on different platforms.



creating compatibility and seamless experience for simplicity is the key to seamless end-to-end journey for passengers.


Eric Léopold, IATA Director (2012)





Current situation and problems

First project stage was to understand current situation in air travel industry. Analysing trends, industry reports as well as looking back to understand the air travel history has proved the need for more integrated and seamless air travel system.

Lost luggage, long queues at security in the airport and missed connecting flights are just a few problems experienced by the passengers. On top of that difficulties and problems in aviation industry might lead to bad user experience.


CO2 emission control
The more air travel you take, the more CO2 emission will be in the air. Developing more eco-friendly fuel is the key but also co2 footprint tracking is needed to have a passenger to be aware of the environmental problems by air travel.
Passenger Growth
The number of passengers has been gradually growing up in line with the air travel market growth. According to Airbus survey (2012), passengers expect to fly more frequently in the future with the emerging markets being the main focus. With the growing air travel market and its users, the air travel industry needs to be changed according to users' demand.
The mobile usage
The year 2013 is the year that mobile usage had been dramatically increasing and everything was rapidly changing around the mobile environment. However, compared to now, 2013 was not a mobile mature stage in many ways. The Internet access speed on mobile was still slow, mobile screens were so small. Even more, many companies had ever yet provided mobile-optimized services. But definitely that was the period to adapt to the mobile environment.
Yet the mobile is a powerful and promising environment, offline based services are also crucial. Travel does not happen on mobile but in the real world.
Lack of assistance.
Nowadays you do not have to wait in a long queue because of Kiosks that disperse the people and save their time. Mobile ticket purchases give users freedom and absolute convenience. Thanks to technology, air travel seems to get easier than ever However, some people desperately need a human touch. Older people might have some problems dealing with Kiosks that offer not well-designed user experience. Some people are terrified by the security checking process without human help. Many operations still require a lot of human touches. However, the air travel industry has been reducing human assistance to simply save costs.
Extra Security Checking
According to AP News (2009), travelers going to the US are going to be screened based on specific information to prevent potential terrorist attacks. This new procedure will have extra screening for all the passengers from 40 different countries while this new screening creates inconvenience and significantly slows down the process.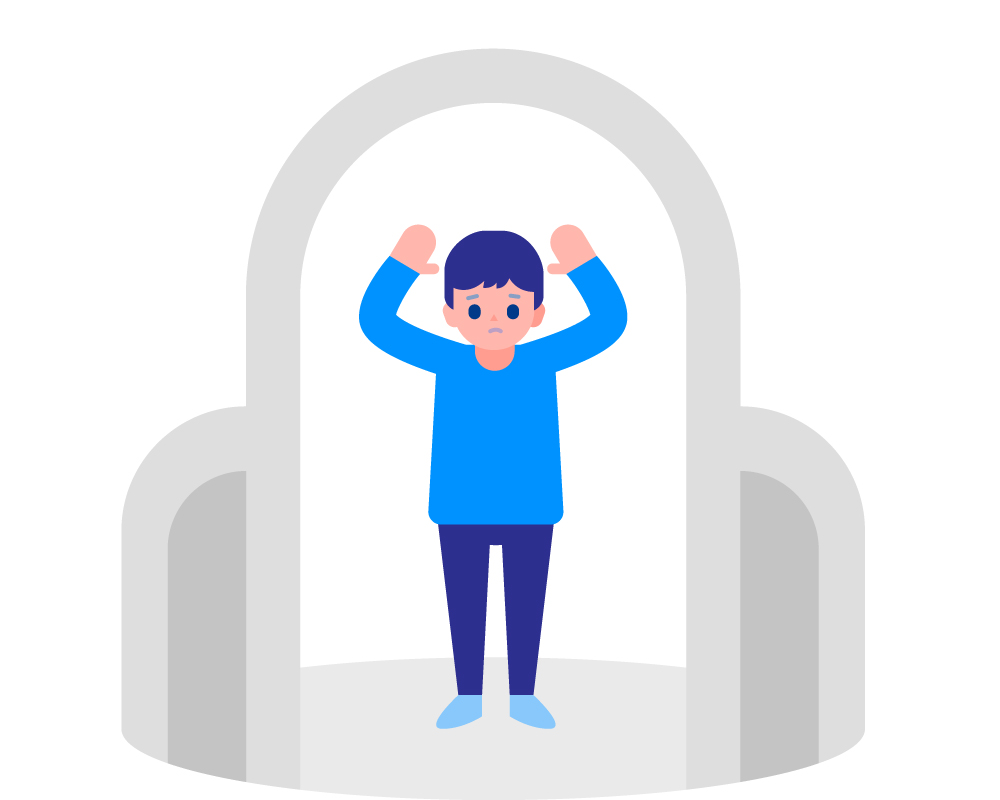 Lost Luggage
The airline industry says that the case of lost luggage has been declining with improved tracking technology. However tens of millions of bags still have been lost every year. In fact, the latest baggage report from SITA (2019), an international IT provider to the industry that monitors global baggage handling, revealed that 22.7 million bags were lost or temporarily mislaid globally. It's the most frustrating experience to wait for your bag to get in front of luggage carousel, being exhausted after a long flight.
Findings from preliminary researh


Can design play a crucial role in solving existing problems in air travel to enhance user experience?
More specifically, how can we reduce the redundant steps and make a seamless air travel experience for people?

To sum up
To innovate air travel experience for users, it requires more than simply bringing certain technology or designing flight tickets more noticeable. Rather, it needs a holistic approach as a service experience design for users.

Service Design Principles
Let's briefly take a look at what service design is.
Service design, by definition, is a way to innovate or improve services to make them more useful, usable, desirable for people, and more efficient as well as effective for organizations (Sticdorn and Schneider, 2012).

Five principles of service design thinking (Sticdorn and Schneider, 2012) can be an explanation for this question.
All the services in air travel are working in different ways according to each of the roles and systems. In consequence, it is hard to physically integrate all the air travel services into one. For example, airline services are totally different from airports. Only changing or forcing the service system to stick to one service role and policy is not a solution for integrated air travel service. With a service design approach, however, air travel services can be integrated in order to enhance the customer experience. Service design can play an increasingly prominent role in the integration of air travel services with different approaches from marketing or management. Five principles of service design thinking (Sticdorn and Schneider, 2012) can be an explanation for this question.


The Air Travel Experience At A Glance

Source: Beyond the friendly skies:
an integrative framework for managing the air travel experience
Jordan L. Le Bel, (2005)
The goal and objectives
We, as designers, tried to solve the current problems to enhance air travel experience for passengers.
We decided to design an air travel service concept that enhances the passenger experience for the future by using various service design methods.
The Goal
To design a seamless air travel experience
---
Objectives
1. To discover problems from both users and service providers
2. To illustrate stages in customer journey through air travel
3. To investigate future technologies to solve current problems
4. To define what users want during air travel
5. To devise design principles for enhanced air travel experience
6. To illustrate a future air travel scenario
Design process

We built our own process with research plans based on both the double diamond design process (Design Council, 2010) and service design process (Engine, Live|work, Teaminterace, 2013).

Research methodology

To have proper findings, we had to carefully design research methods and processes.

As we designed a new air travel service experience for the future, we utilised future forecasting tools and service design process. We carefully selected tools and processes to predict what the future air travel service experience looks like and what kind of technology would play an important role in enabling our forecast.

Research methods are strategically selected in accordance with service design tools suggested by servicedesigntools (2009), Segelstrom (2010), Keepingconnected and Design Council, Stickdorn and Schneider (2012).
The sequence of research methods was carefully planned to find a way to design better air travel experience, solving problems.

Various future forecasting tools were used to gain knowledge of current and future air travel situation and trend.
Research Methodology


Methods are carefully selected in accordance with service design tools suggested by servicedesigntools (2009), Segelström (2010), Keepingconnected and Design council, Stickdorn and Schneider (2012). The sequence of research methods is carefully set according to service design research process.
Technology Trend Research


Air travel system must also be designed taking into consideration the latest technology developments as well as emerging trends related with the industry. Trend analysis was carried out and results show that demand for more sustainable air travel is high therefore biofuel is being developed for aircrafts. Moreover, aircrafts, airports, security checks and even luggages must adapt to the technology innovations.
Expert Interview

The interviews were planned to seek deep insights from experts in relation to the field of:
air travel industry, service design, and customer experience.
Stakeholders Map


Considering air travel service industry, there are a large number of stakeholders including: airlines, airports, visa and passport, aviation organisations, government, politicians, ground transportations, technology business, commercial brands, SME tourism agencies, service designers, etc.




Airports

They play a crucial role in control of aviation traffic and assistant for passengers to prepare their journey.

Service Designers(all aspects)

Designers are the essential stakeholders who can contribute to major change and improvement of air travel service. With regards to service design and customer experience, designers should be accounted as a significant part of stakeholders for service

design.

Visa and passport

Crucial part in political and secure issue to provide and confirm passengers' information.

Accommodation

Relaxing and staying in a safe place is one of the most important part might customers consider during air travel.

Technology
Technology is a basement where the service exists. Without considering technology providers such as mobile, payment, navigating, and Wi-Fi, the air travel service cannot be able to make a progress for customers.

Airlines
At the centre of the air travel service, there would be airlines world wide, providing customers with an essential means of transportation by air.

Business partners
Business partners are necessarily counted for customers during air travel. This area includes commercial brands, restaurants, cafeterias, convenient stores, and any other retailers.

Transportation
In order to get to airports or city, ground transportation is also key service including public buses, buses only for airports to city, taxies, undergrounds, subways, trains rental cars and private shuttles.

International organisations and governments
They are main supervisors for air travel industry. They make the rule and policy for customers to provide secure and safe air travel experience. The rule and policy varies according to a nation even though there is basic international standard.

Travel agencies
They provide easy and simple services for customers who are not familiar with air travel. They are easy to access and friendly support customers helping them to suggest personalised service.

Persona


Through the persona, specific needs are different according to travel style and frequency. Since business travellers travel frequently they are likely to adopt of new technology that might helpful for them to be more productive even during travel. Business trips are often subject to changes and thus the mobile application with which they can rebook the flight or accommodation schedule is a crucial ability.
Young traveler
Jennifer F Gomez, University student
Female / Age: 23
She is a university student in London, UK majoring in graphic design. Since she really loves to travel around world and wants to experience diverse cultural differences, she has been taking several part-time jobs during the terms at university to earn money for trip. During air travel she posts and write her feeling directly to Social meida. Moreover, she is running her own blog for posting pictures, experience and inspirations from her journey. Through her blog she posts information and tips for trip to share her experience of travel.
Business trip
Andrew Scott, Architect
Male / Age:38
He is a businessman who travels a lot for business purpose. He is a VIP member of some airlines and usually takes business class. He can be able to use VIP lounge and VIP service such as: door-to-door service, free luggage delivering, fast ticket issuing, boarding priority, etc. After long trip in plane, he usually takes a taxi to get to hotel which was al- ready booked before the trip.
Early retired couple
Lea Seydoux & Alain Delon
Age: 55, 58
After retarded he decided to travel around more with his wife. They are willing to spend money for convenience and relaxing experience during trip such as food and hotel. They are quite familiar with using smart devices and the internet service to search cheap flight ticket or accommodation. Even though they still want to be served by human services.
Observation


To observe people's behaviour and find out the difficulties in the airport, we went to world famous airports including:



LHR London heathrow
JFK New York
EWR Newwark
LGW London Gatwick
SIN Changi Singapore
ICN Incheon Seoul

1) Difficulty in using self-service check at KISOK
Airports and airlines even public transportations are struggling to save their money by in- troducing new technologies such as KISOK with which customers can issue their flight tick- et without human service. However, this intelligent system is hard to use for older people who are not familiar with this kind of technology still requiring human touch.

There are many KIOSK self-service check in at Heathrow and Gatwick, only few people use them a day. Some of them are at the corner and under the stairs making hard for customer to use it even to notice them exist. In case of older people, they seem to need a guidance to navigate the KISOK to issue their flight ticket and weigh luggage. There are a few helpers nearby KISOK but for customers it is uncomfortable to use KIOSK and ask help to crews.

2) Accessibility to the Information
Information centres are easily found at airports and customers can get any help in person. When it comes to wireless Internet & Wi-Fi access, however, customers cannot have free Wi-Fi but pay for it at JFK, Newark, Heathrow, Gatwick and Changi airport, except Incheon airport. At Incheon airport all customers can have the Internet access with free Wi-Fi of- fering. Natives may have 3G Internet access at airport which is in their country otherwise people from other countries may do not have Internet access.

3) Navigate direction at airport
Sometimes passengers lost their way to the right terminal. Heathrow,For example, is one of the biggest airports worldwide which has five terminals. Passengers often confuse loca- tion and having a trouble to navigate their direction. Most signs and information are well designed according to passenger's needs. However at some points, signs are not very well informed, for example, getting to the express train to terminal 5 and direction from parking lot to terminal 5.
4) Long queue waiting at security checkpoints and immigration
The security check at JFK is very strong and strict to prevent potential terrorists' attack. It generally takes 30 minutes to sometimes more than an hour.

5) Luggage Handling Problems
Travellers with heavy luggages are often faced with difficulty to handle their luggage and find trailers to carry them.

6) Ground transportation
It is obvious that customers have a hard time to find direction to destination from airport and vice versa. This is mainly because travellers from different country are not familiar with the transportation system of the city they travel.

7) Security checking without dignity
Passengers are often stressed out front of security checking point. Since the security check usually intensive and strict, passengers too much care of their personal belongings. Espe- cially at JFK airport, the security check is very severe. Furthermore, bags or luggage leaving alone are likely to be destroyed without warning at JFK.

Co-creation Workshop


Designers, engineers, and marketers closely worked together, analysing and discussing on the research result.
User Journey Map
with Emotional Curve
This is the user journey map with emotional curve that divides the current air travel journey into nine stages.
Plotting down current customer journey helped us to identify the core problems in current air travel experience.

- We set the first stage as a pre-trip where users get a motivation to take a trip.

- The most depressed point was security checking.

- At the immigration gate, users feel uncomfortable due to language barrier.

Users get a motivation from various sources such as travel book, blog, movie, photos from others. Users take photos during trip and upload them to share. Someone will be likely to get inspired from the travel photos. This is a endless cycle.
Touchpoint Matrix


The stages from customer journey map, we illustrated users touchpoints through air travel stages. The key to reduce the wasting time and inconvenient is providing customer with one easy accessible platform and system for one simple touchpoint with which they can access to all the services.


What Do Users Want?

Strategic Design Principles
New Touchpoint Matrix

The new touchpoint matrix illustrates that integrated air travel service can provide customers with a single unified flow mainly through the smart device except the security check. Although security check still requires human touch for more sophisticated management of the part, the service process and times will be significantly reduced. With integrated air travel service, the persona can be able to travel in a single flow by using only their mobile phone. Integrated air travel service should be designed in holistic manner considering entire customer journey with touchpoints from home to destination.


---
The service blueprint has been applied from the service management/marketing field. In the early 1980s, Lynn Shostack (1982, 1984) introduced the technique. Stickdorn and Schneider (2012) claimed that service blueprints are invented as a way to specify and detail each individual service perspective. This involves a visualised schematic combining the perspectives of both the customer, the service provider and other relevant parts, detailing customer contact points behind-the-service process (Stickdorn and Schneider, 2012). The service blueprint is developed in the updated model suggested by Bitner, Ostrom, & Morgan (2008) with five sections:

Physical Evidence: A tangible evidence of that the service has been provided.
Customer Actions: Actions by the customer without interacting with the service touchpoints.
Onstage: Interactions between the customer and the service touchpoints.
Backstage: Actions by service employees which aren't directly visible for the customer.
Support Processes: Subcontractors and actions easing other actions, such as scheduling.

By using service blueprint as a service design tool, it is able to show how the new integrated air travel service works with detailed visualisation of the actions and process around which passenger experience is identified (Stickdorn and Schneider, 2012). This is a source of improvement for service providers to share, plan and design the service process for customers (service design tools, 2009). Service blueprint for integrated air travel service enables identification of service process in visual representation and touchpoints where customer experience of the service occurs.

Integrated air travel service basically provides customers with simple access to services that they want. Possible service on smart phone with interface design where customer can easily find information without visiting other websites and agents
Branding & Visual Identity


Skynex represents the vision of air travel by bringing users a hassle free experience from home to destination. Skynex service is designed for seamless air travel exprience for passengers.




The Name
Skynex Name was built to contain key conecpt words: Sky, Nexus and Experience. Skynex can play an integrated role in providing users a seamless air travel experience.

The Symbol
The Skynex symbol symbolises optimized pathways and links to other place for new air travel experience where people can enjoy hassle free and stress free air travel.




User Experience Features

Skynex consists of numerous service features to assist users during their journey. The service system is integrated into users' personal smart devices providing touch points over ticket booking, airport navigation, flight information tracking and digital wallet. Skynex also accommodates a door-to-door baggage handling service as well as digital tags for users to track their luggage in real time. Other Skynex service features, such as airport lounge, in-flight seat customization and speed security check-in are also comprised in the system.



Prototyping
Skynex app interface is easy to navigate and provides various Skynex features as well as support in each journey stage.
---
Service Flow
Future scenario
Users do not have to carry paper passport and flight ticket anymore.
Future smart device will offer users a duo screen display allowing them to see both boarding pass and passport.
Substrates made of very flexible metallic foils or plastics which make the display very lightweight, durable and easily portable.
The display can switch to duo screen when customer is trying to search for specific details of flight information.
This foldable mobile device can bring users a sense of carring a passport, which users still want even if paper passport will not be necessary.
Users still want to have a sense of analog travel experience.
Skynex allow users to collect digital stamps as they did on the paper passport before.
Skynex door-to-door shuttle service will pick up you and your luggage.
SKYNEX luggage shuttle, all autopilot electronic vehicle, will reach out to user's place by using a precise GPS tracking while optimising its pathway to the airport. SKYNEX premium
limousine
service will also be available.
Users do not have to worry about lost their luggage anymore.
All luggages is tagged with SKYNEX chip, pushing notifications, and allowing users to monitor their luggage location and status.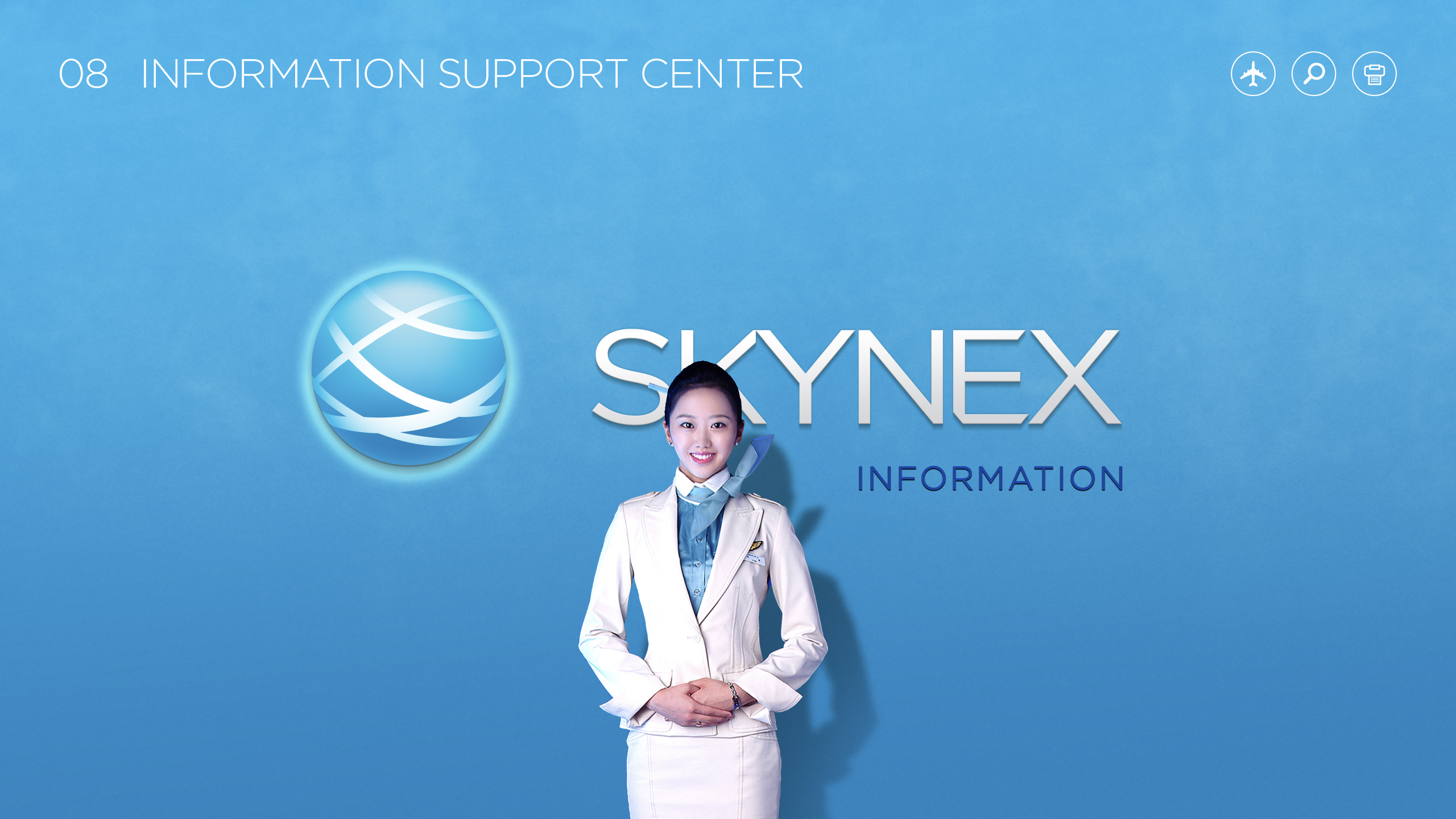 Skynex staffs will offer you a helping hand with anything you need.
If you know your way proceed straight to the security check.
Skynex allows users to verify the ticket details and check-in without paper tickets.
The retinal scan, a biometric technique, using unique patterns on a user's retina to verify identity for optimal security checking.
Once you pass security checks you can shop around and use exclusive SKYNEX partnership discounts.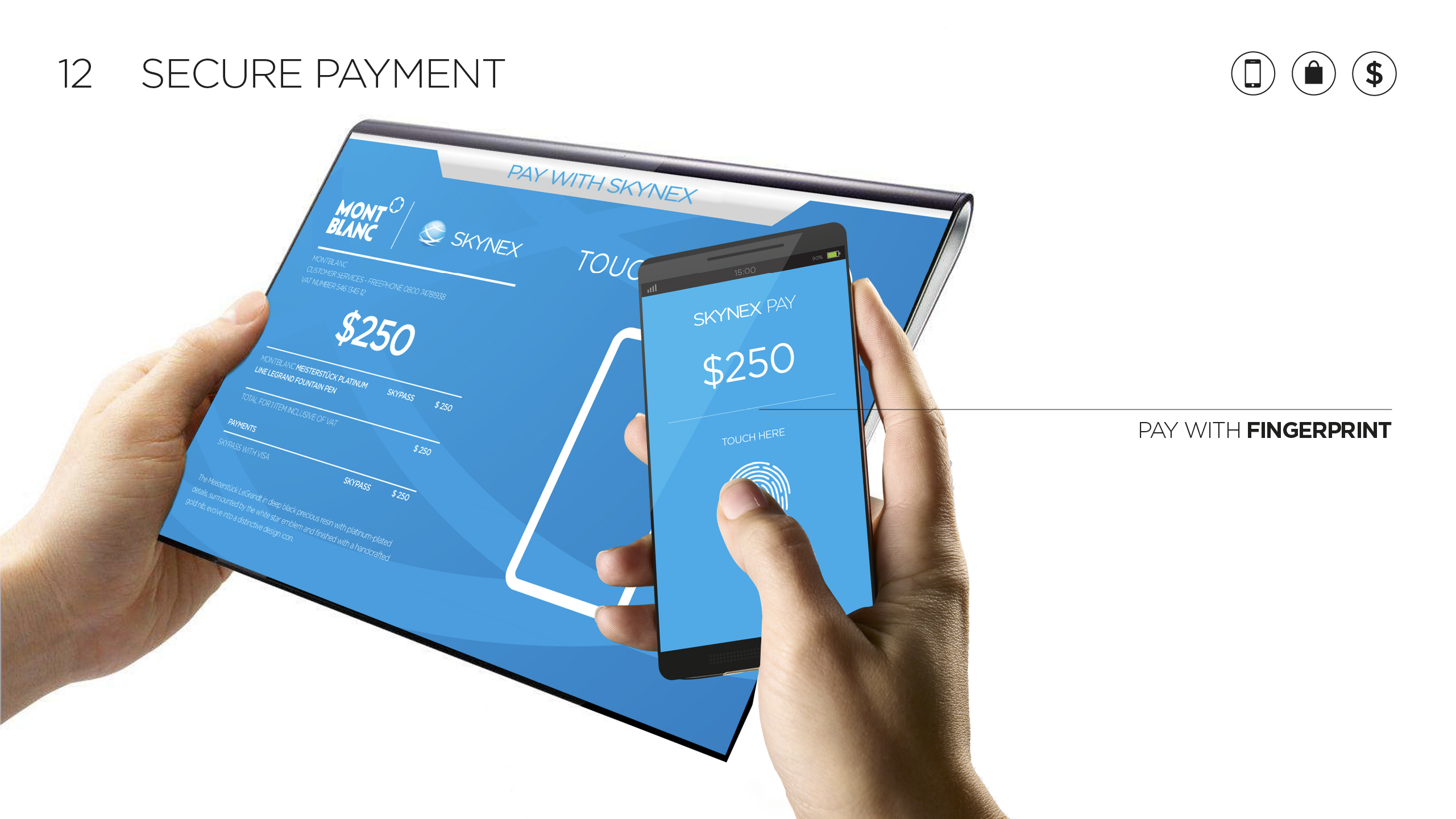 You don't have to worry about pulling out your wallet,
because Skynex payment system ensures secure payment using biometric verification.
Once the flight is ready for boarding you can easily find the gates using Skynex navigator.
During flight, users can synchronize their preferences seat environment, using SKYNEX app.
SKYNEX remember user's preference that are saved from the past experience.
Users also can access to their favourite movies that they already saved.
You can instantly locate your luggage using Skynex app which receives the signal from the Skynex tag on the luggage.
Finally you use SKYNEX train service to arrive at your final destination.
Skynex team won

Best of the best Red dot 2013
Student Silver prize Core 77 2013
Finalist IDEA 2014



SKYNEX Renewal Project
Coming Soon ︎